Héloïse combines sound and magic. She is the co-founder of ZAMZAMREC, record label devoted to experimental music : dreamlike, free electronics, avant-garde explorations published on cassettes and vinyls. She plays solo as H, trio with H.U.M (Rocket Recordings) and more intensively with Zohastre (S.K.Records), french-italian duo, whirlwind combination of spacio-tribal drums and bewitched electronics. Strange music, music of the stars, music for the night, music for dreams, music from outer space &from the future ((/\ /*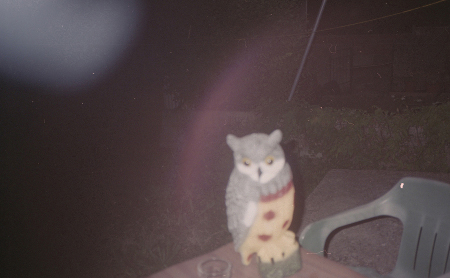 Artist_musician, Héloïse was born in 1981 in Fontainebleau, France. She grew up between the block and the forest, surrouned by books and vinyls.
At 18, she moved to Paris. She studied french literature at La Sorbonne University. She closed this cycle with an essay about Samuel Beckett and his theater, entitled The Writing of Exile.
In 2004, she moved to Geneva, Switzerland. She entered the High School of Art and Design (HEAD) where she developed a study around The Color Grey. She joined the New Media department and discovered a universe of sound and music experimentations. She started a project called H. She has been composing and performing "romantic noise" music pieces since then.
Héloïse has been active in the Swiss and European underground scene, playing shows, being part of festivals, radioshows and exhibitions. She started to tour, travelled to America, while publishing music and drawings for small independent labels.

In 2011, entrusting her inner compass, she decided to move and settle in Bristol, UK, where she explored new sonorous realms and vibrating horizons. Together with Olmo Guadagnoli, they created ZAMZAM RECORDS a "constellation" label and "superfuture" network. They started to collaborate with a myriad of various and talented artists and to publish dreamlike/avant-garde music on cassettes and on vinyls.
They also started to organize FAG RADIO shows, evenings of concerts, recorded, broadcasted live and archived on the Internet. Fag Radio's Bristol transmissions ran from early 2012 to summer 2015 mainly out of the FAG Studios in King Square, Bristol. Over its 3 years period, the station showcased over 80 live performances from visiting musicians and local artists . The show also travelled, broadcasting from other spaces and festivals in the UK and Europe before relocating and broadcasting it's last few closing transmissions from 'The ZZZone' warehouse.
For 6 months, Héloïse et Olmo invested and transformed an industrial building to a creative space and inaugurated a DIY pop-up art&music gallery, the < ZAMZAMZONE >. They curated and organized spontaneous gigs, workshops, conferences, happenings and exhibitions, playing a pivotal role in the city's thriving experimental scene.
In 2014, she published a 7'' LaVague as H on "LePetitMignon" label and C30 cassette, WE ARE ONE, on BUMTAPES, with the pan-European electronic trio, H.U.M. They fist spontaneously éerged together at the Woolf Music Festival in Wiltshire forging a free improvisatory union wich they then took on tour to spread as a sonic philosophy through Europe and UK and in 2016 they published a debut LP TRINITY WAY with ROCKET RECORDINGS.
In August 2015, Héloïse et Olmo decided to relocate and live in a remote land of nature and music out in the french countryside. They started a duo project called ZOHASTRE. After two years of thrilling touring with this project and following the limited edition cassette of Quark Star /\ Étoile Étrange, the French-Italian duo of Héloïse/H and Olmo/Uiutna released a debut LP Pan And The Master Pipers with the flourishing label S.K. Records.
While orchestrating sound ritualzz and exciting events, H continues to multiply tours and concerts, exploratory projects, researches and inspiring collaborations, her work always more intense, deep and visionary /l\****