More
¦><¦...¦><¦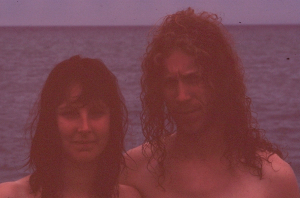 O__Olmo & H__Héloïse met in Geneva in 2005. They gravitate in the squat underground scene, approaching the world of "electronic arts", composing riffs and radiophonic pieces, joining forces and pubishing CD-R's, handcrafted tapes and vinyls for independent record labels such as Wildrfid, Das Andere Selbst, Audioactivity, Vaatican Records, Rowboat and Le Petit Mignon/Staalplaat.
Héloïse's background is more literary, she grew up near Paris, surrouned by books and vinyls. Her parents listen to jazz and classical music, while she belongs to the tape & mixtapes generation! Olmo comes from the Italian punk scene. Guitar lead in his first band Narajan core, he soon turned to drummachines and computers, but he's been especially itching to jump on his grand-father's drumkit!
In 2011, Héloïse & Olmo moved to Bristol UK, willing to explore new sonorous realms and vibrating horizons. They start to organize concerts and radio shows, to collaborate with a myriad of passionate souls (MXLX, Cementimental, Ocean Floor, Henry Collins, Deej Dhariwal from Thought Forms, Anthroprophh, GNOD...) and so they created ZAMZAMREC...
Between 2013 and 2015, H, Uiutna and Mark Wagner merged together, forging a free improvisatory union, which they took on tour to spread as sonic philosophy through Europe and the UK. Together as H.U.M. they released a cassette collector "We Are One" on Bumtapes label and a debut album "Trinity Way" for Rocket Recordings.
In 2016, H&O decided to relocate 'out in the country' somewhere in France. After two years of thrilling touring as ZOHASTRE and following the limited edition cassette of "Quark Star /\ Étoile Étrange", the French-Italian duo of Héloïse/H and Olmo/Uiutna is releasing a new LP "Pan And The Master Pipers" with the flourishing label S.K.records.

They delve into more psychedelic spheres : drony yet volatile sounds, heavy and deconstructed rythms, enchanting and shrilling bagpipes, echoing in a sea of shooting stars...



.................................

............
..................................................

Together, they run ZAMZAM RECORDS since 2011 publishing the music and artworks of multiple and diverse "noisu" creatures on cassettes and online.

In 2012 they started to organize < FAG RADIO > shows ((evenings of concerts, recorded, broadcasted live and archived on the Internet.
Paul Allen >Anthroprophh >The Heads was resident DJ along with Ross Roberts >Bumtapes.
Over its 3 years period FagRadio has showcased over 80 live performances from visiting musicians and local artists.
The show also travelled, broadcasting from other spaces and festivals in the UK and Europe, before relocating a broadcasting it's last few closing transmissions from 'The ZZZone' warehouse.
http://www.zamzamrec.org/FAGradio.

Zamzam EVENTS have occurred in various and mysterious places (((practice rooms, caves, crypt, church, warehouse, garage, prison, squat, shed, roof, courtyards, manor, mill, bars, venues, hotel, museums, bookshop, library, cinema, art spaces, festivals, in Uk and beyond.
http://www.zamzamrec.org/P_rty.html

In collaboration with Bumtapes, they initiated a < TAPE BAKERY > Project.
The idea is to "freshly" bake original tapes on site, ready for collection soon after a show.
To record live music onto audio cassettes in real time and press the artworks in parallel ((DIY cassettes and covers)).
The Tape Bakery has been hosted by Supernormal Festival and Le Monstre Festival and is up for further cooperations.

https://tapebakery.wordpress.com

For 6 Months, they invested and transformed an industrial building to a creative space and inaugurated a DIY pop-up art&music gallery, the
< ZAMZAMZONE >.
They curated and orchestrated spontaneous gigs, workshops, conferences, happenings and exhibitions, playing a pivotal role in the city's thriving experimental scenes.
http://www.zamzamrec.org/ZZZ.html


And in 2016, they decided to relocate in the ZamZamRealm of skies and apple trees...